21 Plus Foundation sponsored a four day Social Role Valorization (SRV) workshop for supervisory employees. Over the several years since that introduction to SRV, employees at all levels participate in SRV training workshops. Employee response is positive and staff is energized and determined to work with the men and women we serve to gain valued social roles in our society!
Social Role Valorization is the name given to a concept for transacting human relationships and human service, formulated in 1983 by Wolf Wolfensberger, PhD.
The major goal of SRV is to create or support socially valued roles for people in society. The belief is that if a person holds a valued social role, that person will be highly likely to receive those good things in life that are available in that person's society, or at least the opportunity for obtaining these. Our staff have developed an awareness that will fuel the philosophy of never settling, but diligently helping our folks strive towards the best society has to offer. Workshops are offered continuously to keep SRV principles fresh in everyone's mind throughout the year and to train new staff..
How does SRV impact the lives of individuals?
Every day our staff make decisions based on SRV principles.
People are much more likely to experience the "good things in life" if they hold valued social roles than if they do not.
People judge and assign value. A valued social role can increase the perceived value of an individual.
We all have valued roles – whether we are staff, individuals served, or family members (The individuals we serve have valued social roles: Employees, Family Members, Trainers, Club Members, Volunteers, Campers, etc.).
We at 21 Plus are striving for SRV principles in our agency.
We support valued social roles for the people we serve. We want to work to have "Suzy" experience the good things in life and have a valued social role in the community.
A valued social role helps people in the community look past a disability, because more is presented than just the disability.
It helps to overcome judging and pre-judging. It helps to facilitate inclusion.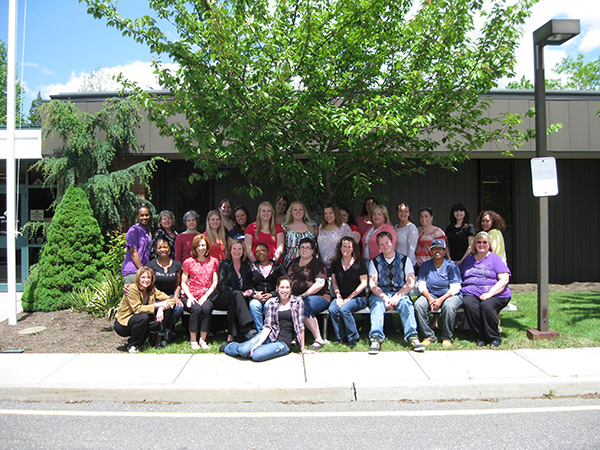 Group photo of SRV Graduates.
For more information about Social Role Valorization, visit the
KEYSTONE Human Services website
.